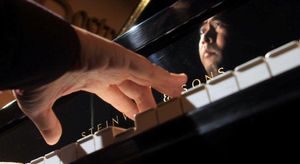 Born and raised in Ottawa, Peter has been a mainstay of the jazz community of Canada's capital for three decades.

He has released three albums of original modern mainstream jazz, and in 2022, he has so far performed for audiences in not only Ottawa, Montreal and Toronto but also Charlottetown, Antigonish, Kitchener and Vancouver.

Peter's latest recording, Ordinary Heroes, a collection of 10 compositions that respond to today's social and political tumult,  was released in 2020 thanks to grants from the Ontario Arts Council and City of Ottawa. Among the acclaim that the album received was a four-star review in DownBeat magazine. 

That album features a stellar group of peers including Kenji Omae (tenor saxophone, Antigonish, NS), David Smith (trumpet, Brooklyn, USA), Mike Rud (guitar, Montreal), Alec Walkington (bass, Montreal) and Ted Warren (drums, Guelph, ON). To celebrate the hard-copy release of Ordinary Heroes, Peter and his friends began a tour of Ontario, Quebec and the Maritimes in March 2020, supported by the Canada Council for the Arts and Ontario Arts Council, just before the global COVID-19 pandemic brought life and live music to an abrupt halt. 

In the works is a piano-duo album that Peter recorded in the fall of 2022 with fellow Ottawa jazz pianist Steve Boudreau. Peter and Steve hope to release their album in 2023, which was supported by a grant from the City of Ottawa, and perform in support of its release.
Previously, Peter released his second album, Alpha Moment in 2015, and his debut recording, A Boy's Journey, in 2010.

Largely self-taught, Peter was bitten by the jazz bug when he was a teenager in the 1970s, exposed to the music of Keith Jarrett, Herbie Hancock and Chick Corea. He counts himself very fortunate to have performed with such Canadian jazz legends as Sonny Greenwich, Phil Nimmons, Pat LaBarbera and Reg Schwager. Over the years, Peter's own projects have included such esteemed colleagues as the saxophonists Kenji Omae, Joel Miller, Frank Lozano and Mike Allen, guitarist Mike Rud and Roddy Ellias, and drummer Ted Warren, Dave Laing, Dave Robbins and Andre White.
In Montreal during the last half of the 1980s, Peter performed weekly at the first incarnation of the city's famed Upstairs jazz club. Peter counts such accomplished artists as Steve Amirault, John Stetch, Denzal Sinclaire, Mike Allen, Dave Robbins, Alec Walkington and Ted Warren as friends from his Montreal days. While working toward his Master's Degree in English at McGill University, Peter led a jazz sextet that won the Lowenbrau Jazz Search in 1986 and represented Quebec at the Montreal International Jazz Festival's Alcan Jazz Competition in 1987.

In the early 1980s, while he studied English at Queen's University, Peter benefited greatly jazz-wise from extracurricular time spent with the great drum teacher Chris McCann.

Outside of music, Peter has been a journalist at the Ottawa Citizen since 1990, and has covered the education, crime, city hall, courts and technology beats. He has also reported for the newspaper from Hong Kong, New York, San Francisco, London, Amsterdam, Hanover and Eastern Slovakia. He currently writes widely on arts, culture, food and restaurants.

Main page photo by John Fowler, inset photo by Bruno Schlumberger